As you may know, my car and trailer were stolen on Christmas Eve along with my
blood, sweat, tears, career, and sacrifices I have made and put into this car for
my dream of being a Professional Formula Drift driver.

If you don't know, then Hi, my name is Walker Wilkerson, and this is my story…
December 24th, 2012
On the morning of Christmas Eve, Vanessa received a call informing us that the place we had stored my Formula Drift car had been broken into. The commercial steel, key access only gate to the building had been chopped down and the trailer wheel lock had been sawed in half.  The trailer with my car, wheels, tires, race fuel, tools, and ramps inside had all been stolen. Everything in that trailer was top of the line…. and it's now gone. The perfect gift and just in time for Christmas.
I clearly remember feeling like the world was going to end. I know it's not a human that was abducted. I know it's a material object. It was more than that though. My baby purple car is part of our family. Many sacrifices have been made by many people and myself to make her what she is today. I had a huge lump in my throat as my heart was racing. At the same time it was so surreal. It was like, "Oh my gosh, is this really happening?!" I was trying to digest what was being told to me, yet it was so hard to accept that what I was hearing was true.
Accepting that the car I learned to drift in, devoted 5 years of my life to, dedicated 5 years of working to pay for parts to build her, the insane amount of hours slaving over this car, everything, was just taken in a matter of minutes was mentally and physically draining. All for what? Because there are people who exist that don't want to work an honest living, nor do they care how this affects people's lives?
I can honestly say it hurt more than you could ever imagine. You hear about other people's cars being stolen and your heart goes out to them. You think, "Wow, I could never image what I'd do or how I'd feel if that happened to me." Well this time it happened to me. I was devastated. They didn't think twice about stealing my car and trailer. They didn't think twice about stealing from someone who did work hard to make an honest living in order to support myself in drifting. They didn't just steal my car and trailer, they stole my passion, my career, and my dream….They stole a piece of my heart.
Immediately after hearing the news we rushed down to Carson, CA where the trailer and car was stolen to file a police report. I was still in shock. Seeing the broken, chopped down gate and broken trailer wheel lock on the floor started to make the whole thing feel more real. Over and over in my mind were flashing memories of my purple daughter. While I stood there in a daze, the police came up to me after their brief inspection and informed me that there were no fingerprints to be found or any type of evidence due to the fact it was raining. The facility manager of where the trailer was stolen also told us that the video footage was very unclear. All they could make out was that the gate was chopped, the wheel lock was cut, and the trailer was stolen in about 10 minutes flat. The vehicle that hauled the trailer appeared to be a newer black or grey Chevy Duramax, but there were not visible license plates on the truck. This was not the news I was hoping to hear.
Vanessa and I just stood there with the most helpless feeling, thinking, "Is this the end What do we do? Where do we go from here?" Immediately we started gathering information on the trailer and brainstorming significant pieces on the car and in the trailer that may help others identify them if they were to spot them. We posted it on Facebook, Craigslist, Forums, and everywhere else where we felt someone may listen. The amount of immediate feedback was incredible. Although we had no clues right away, just knowing there were so many people who supported me and were there for me was amazing.
Shortly after, Vanessa and I drove all around the Carson and surrounding areas in search for our missing daughter. We knew we couldn't give up hope. We couldn't stop looking or we knew we'd never find her. The worst part was that I posted my phone number on the Facebook post and every time my phone would ring my heart would sink in hopes that someone had information or a lead to where my car was. Unfortunately a lot of them where prank calls from people saying they knew where my car was, or they had my car, etc. Finally at about 3am we decided to go back home. It was Christmas, and everything couldn't be worse.
December 25th, 2012
From all of the prank calls that I was receiving, Vanessa started answering my phone for me from numbers I didn't recognize. For some reason when she answered they would tend to hang up or just say something nice rather than saying they have my car or along those lines. At about 11am my phone rang and Vanessa picked up as she looked at me smiling. A caring fan told her that on his street there was a trailer matched the photo of ours that was dropped off in the middle of the night by a newer black Chevy. He said in the morning he passed the trailer to confirm it had the same Washington plates as our ad.
We immediately raced down to South Central LA where we were told the trailer was.
And sure enough, it was ours.
We called the cops and they wrote up yet again another police report. The police inspected the trailer and found it was completely empty and said that due to the car that was inside we most likely would never see it again. They said there was a good chance the car was already in a container getting ready to ship to another country and that customs only inspects about 3% of all containers that are in queue for outbound shipping. We asked what are the next steps they recommended we should do and they told us unfortunately there really isn't anything we could do. They said whenever an exotic or unusual vehicle is stolen, the thieves generally keep them in closed quarters because of their worth and how easily identifiable they are. LAPD called the Carson police department to tow the trailer to their lot for further for investigation and printing, then they were on their way.

The rest of our Christmas was not spent opening gifts and spending quality time with our families, but instead searching the streets and alleys of South Central LA.
December 26th, 2012
The morning after Christmas Vanessa's phone rang and her parent's friend Rick let her know that he was going down to South Central LA to search for the car. He told her, "I have to head up there, like right now. I know if we leave right now we'll find it. I just hope it's not already a shell or a box of scrap metal." He agreed to pick us up to help search for the car which was good because many people in the South Central area already saw us with the police when we filed the police report for the trailer and we drove around that area all day so I knew if we were in the same car we would easily be spotted. He said my Formula Drift car was most likely being held within a 4-block radius of where the trailer was stolen.
Hours of searching went by without any luck. As we were about to go down the last street in our search, someone in another car cut in front of us. Rick slammed on the brakes and we were stuck on the side of the street since the person who cut us off was blocking us from moving. Vanessa and I happened to be looking out of the side window and there she was, our purple daughter!
Rick immediately parked once we told him we spotted the car and that's when we saw a maroon and tan Astrovan that the thieves were using to load parts from my car into. It was near impossible to fight the urge from wanting to jump out of Rick's car and tackle these guys as I hopelessly watched them load my OMP custom glitter-painted driver seat and boxes completely filled to the top of my parts into their van.
There were 9 guys in and around my car dismantling every inch of it. Most of the body panels were taken off except for the front bumper, which I thought was odd since the front of the car was facing the street although the car was behind a large solid steel gate on the side of a small duplex.
Vanessa called 911 while I wrote down the plates to the Astrovan. As ironic as this sounds 911 is thought to be for emergencies yet they placed her on hold. Once dispatch answered, Vanessa tried to give them the number to our original police report and tell them we found our missing car and questioned Vanessa as if we weren't sure that the car we said we found was really ours. It was as if a bright purple car which florescent wheels was an everyday common vehicle?! Dispatch then said they couldn't send anyone out until we not only told them exactly how many people total were at the scene, but also what their exact ethnicities were. I'm so glad that 911 is so responsive to their emergency calls. Absolutely ridiculous!
As Vanessa continued to reason with dispatch, meanwhile Rick got out of the car and went into the gift shop that was next door to the duplex. The gift shop sold children bicycles and he told the lady he would not buy one unless he could test one out. He rode the little bike up and down the sidewalk, pretending to look like he was testing it out. He took a peak through the gate and looked over to us and smiled. We instantly knew that it was his way of telling us the car still had a motor. By this point we were all anxious as ever to know more…
They thieves finished loading the van, stopped stripping the car, started to put the sheet back over the car that they were using to cover it.
The van drove away with 5 of the thieves and all of my parts about a minute after the police finally showed up.
The thieves that were left started running frantically in every direction like cockroaches, looking for places to hide. The police grabbed each thief they could find and went inside of the house they saw one of them run into. Inside the house was also one of the thief's wife and children. There were various car parts filled in this house, stuffed behind their TV, and even in, yes IN their kids beds and under their blankets! The detectives gave us only a few minutes to search this disgusting house before telling us we had to leave since we can't search through these peoples personal belongings. Their 'personal belongings' were car parts including a few that were ours so it was more like stolen belongings!
As we were forced to leave the inside of the house, we recognized the wife of one of the thieves who was guilty by association. They told us she was free to go because they she was 'innocent' and had 'no involvement' even after she admitted to have had our car for a day and she stated she didn't know anything about the other cars that were stolen. Notice she said she didn't know anything about the cars that were stolen so obviously she knew that the cars at her house were stolen.
After they let the wife go, we soon realized they let everyone go free except for one thief. We were extremely frustrated when they told us if they could not see anyone wrench on the car, the DA would throw it out and they would be let off. The thing was we did see them dismantling the car. But what do we do? No one wanted to listen. I tried to wrap my head around the fact that the police were basically telling me it was perfectly legal to steal as many cars as you want and use them as lawn decorations as long as they don't personally catch you uninstalling parts off of them.
The worst part was when we told the police about the van. The wife heard and of course she called the people in the van to let them know the police were running their plates and were going to camp out in front of the house that the van was registered to. When the police showed up to the house, no one was home. In fact the van didn't return to the house it was registered to at all so late that night the undercover police left.
December 27th, 2012
The next day the police called me stating they came back to the house that the maroon and tan Astrovan was registered to and there was yet again more stolen cars, roughly 5 stolen motors, and thousands of stolen parts. I rushed down to the house as soon as they gave me the address, which was located in Compton, CA. Inside the house was bags and bags of parts. Huge trash bags were overflowing all different wiring harnesses and every inch of the house had miscellaneous parts. The unfortunate part was since the one thief's wife told the people in the van the police were going to the registered address of the van, they didn't return to that address until that morning, meaning all of the parts we saw them loading into the van were unfound.
On the positive side, all of this lead to the closing of 2 chop shops, therefore, both chop shops had other people's stolen cars…
How is this a positive side?
You see… we were not only happy we found our purple daughter, we were just as happy we were to be able to give closure to others who suffered like we did

and never knew what happened to their cars…
Although a lot of my parts are still missing, we were able to give the gift of safe recovery to the other stolen cars and parts found and return them to their rightful owners. I felt this in some way was our gift in giving back to our racing/ car enthusiast family. In the end, the police did help us out and were thankful we gave them the lead in all of these busts. Although we found the trailer and car on our own (and with the help from fans) we'd still like to thank LAPD (77th Parole Compliance Unit) for their support. We'd like to GREATLY thank all of the friends, fans, and people who helped, said kind words, donated, and in general supported us in this tragedy.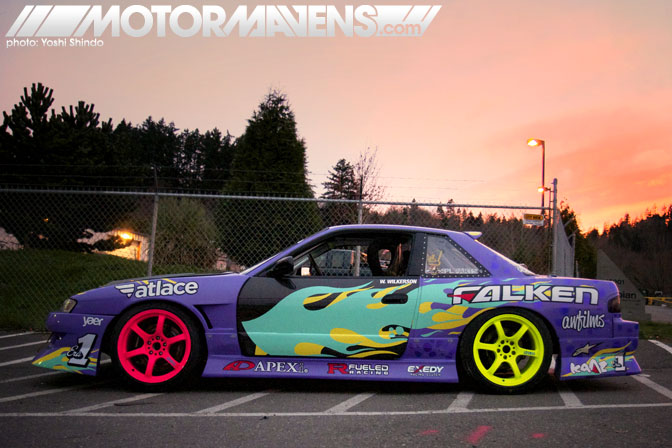 We're still on the lookout for the remainder of the missing parts. We appreciate everyone continuing this search with us!
Sincerely,
Walker Wilkerson